Sandra, our friend, had an idea to create some art from burlap and wood. She cut the board, stretched the burlap, and made the wooden vase...Suzette, Sister #1, made the gorgeous flowers...and I broke some branches and did some arranging...
Here are the results of our efforts...
I love the little bit of bling to set it off...
We've sold some and added more and changed it up a bit, since this photo was taken...
and at the bottom of the page you can even spot Moma, she is the one in the hat!
Come on and say, "Hi"!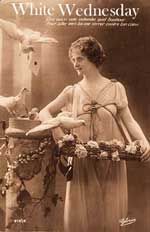 lots of browns in my White Wednesday, but hoping it still qualifies!
At the Victorian Lady Tea Room it's...
tea time
Lezlee