A picture of my 30 year old son with Buffy, our dog!

They really brighten up packages, especially if you use more plain wrapping...
For awhile now, after
Christmas
,
when I have those wonderful, unscheduled days left before school begins, I take down all my Christmas cards and make them into gift tags for the next year. Very relaxing, while allowing me some quite time to think about each person and the uplifting messages on each card.
So
this is my entry for this month's
Junk'le Bells
.
Jill
wants to get ahead start on some crafts for Christmas, so she has challenged herself by making a fun
party
where we can
share what we are working on through the year. Great idea,
Jill
! I really don't make crafts to
sell full time, just occasionally for local charity craft shows, so this is just something that might
make cute tags for home use or pricing.
But, now, I say... let's bring on SPRING!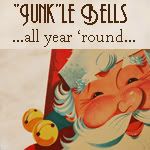 " />
Don't forget my
Priorlives Party
on April 16th!